setting yourself up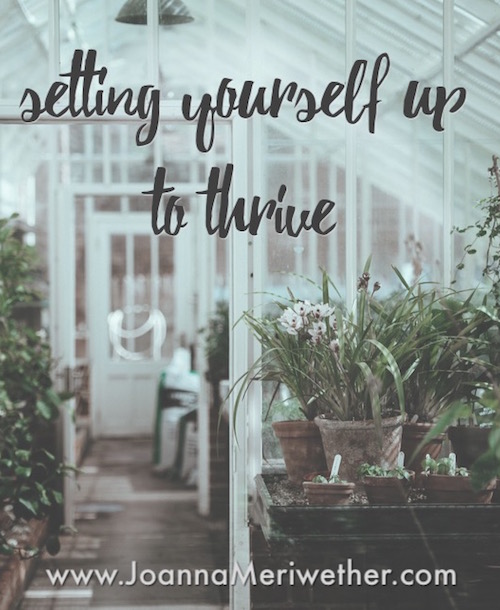 I am finally moved into my new place, you guys. Whew! I'm sorry I haven't been here the last couple of weeks, but it's been kinda crazy! I am definitely getting back on my feet, or setting up some 'new' feet, and that's what I want to talk about today- the crazy and the new, and how we set ourselves up for success/difficulty.
I wrote about stress while I was moving because I was thinking about it a lot. I was very stressed during the whole process- a lot of little things happened, and one or six big messes- and I had a true meltdown one day. Like, I had to call my husband to come home and be with the kids because I was losing it. Actual, total, lost-my-sh!t losing it. (Spending six hours on the phone with the IRS will do that to you, imjustsayin'.)
My most poignant lesson was about how I think, feel, and react when I'm stripped down to my lowest point. And what that experience taught me about my own needs and the systems for meeting those needs.
Even though I knew moving was going to be rough, and I took steps to avoid difficulty where possible, there were still unexpected problems (like when I had to get out of my house two days earlier than scheduled)- and those stripped me to the bone. I kept spending more energy than I had, thinking it would end at some point (it did, but further out than I expected).
When I was at my lowest, I had:
little energy
poor sleep
mood swings
a tendency to be cranky instead of neutral
a lot of fear
anger to burn and no place to take it
loss of supportive habits
inability to receive support from others
I have a very supportive partner, kids, and friends- but I didn't always accept what they were offering me. I also let go of some habits that were more supportive to my emotional health than I knew. By being stripped down to my worst, though, I was really able to see what I needed to rebuild and hold on to for my own health and mental wellness.
<photo via Annie Spratt on Unsplash>
These included:
meditation. I gave it up due to lack of time but it was probably the most important habit for my own mental health. I kept it up, intermittently, once I realized how necessary it was, but now I am committed to daily meditation (which I don't always do, but a 'daily' commitment means I meditate 4+ times a week).
enough sleep. I struggle with this, but it's so hugely important to mental health.
relaxation practices. I use these sometimes. I need to increase their usage.
a good routine and room for rebellion (freedom from responsibility). I thrive in a certain amount of scheduling and routine- but I also really, really need some time that is free from responsibility for anyone but me. I need a funky cage with no top, it seems.
water. both to drink and to experience. We stayed at a friend's house on a river- watching the rowers and the tides was very calming. plants helped, too, strangely enough.
non-caregiving time. This is parallel to the need for freedom, or is another way of saying the same, but I had barely any time that I wasn't free from some aspect of caregiving. Caregiving is a big-ticket energy item, no matter how you slice it.
surrender. I learned to let go and follow what was happening, even when I didn't like it. I had to return to the Tao (when I left Christianity I turned to the most stripped down spirituality I could find: Taoism). I am taking this lesson with me and letting go more.
One of the things about moving into a new place-or any big shift- is that we get to create new routines and systems. Some of the systems are handed to me, but many of the systems I get to choose- where the plates go, how the bedroom is oriented, whether I meditate or not- and it is in those choices that I make my life what it is and what it will be.
What I choose now is systems and habits that will help me be my best- and a commitment to integrating those habits so I don't hit bottom so quickly.
Self-coaching Questions:
What do you know helps you thrive? what systems? what set-up helps you feel your best?
(routine? rebellion? sleep? kale? kisses?)
How can you get/create more of that in your life? (make a little plan, see how it goes!)