I suspect that if you clicked the link to get to this page you are either genetically related to me or a very good friend. In either case, glad you're here and thank you. And if you're the random person who clicks ALL the links in an article, glad you're here, too.
Now, I didn't exactly say "Yes!" in a whole-hearted way on vacation. I was a little crabby some days (as 99% of those who clicked here know me to be). But I did try to say 'yes' as much as I could, given the constraints of city travel, small children, and not knowing the language. That said, I did have a lot of fun. Mmmm…yes, I did.
I said "Yes!" to the following while on vacation:
Places to Stay
Historical Stuff
Food
Passion
Architecture
Music
Yes! Places to Stay
On the way to our cottage in St. Bernard, we stayed in Lydonville, VT, at the Lyndon Motor Lodge. It looks a little sketchy from the outside, but the rooms were great. Small, clean, spare.
It's the kind of place you can tell people take pride in caring for. And that's just so cool these days.
It suited us perfectly for one night up and one night back. I recommend it.
Here is the cottage we stayed at in Saint Bernard, QC. Right on the Riviere Chaudiere it was lovely and comfy. Two rooms with three beds, two full baths (one with a double-spray shower…luxury!), and an open plan downstairs with living, kitchen, and dining. (I always feel more comfortable in an open plan house; it's my West Coast self feelin' all laid back).
Here's the back deck (you can't see the hot tub- but it's there!).
If you'd like to stay, you can find it on AirBnB (my new fave site for finding accommodations!) at this link: Maison de la chaudiere (if the link doesn't work, please visit the AirBnB site and search on "Saint Bernard, QC, Canada" and the name of the house).
Yes! Historical Stuff
We saw the following neat-o old stuff (which is a must when a) your partner is a historian and b) your son likes firearms).
Quebec Citadelle
La Petit Champlain (which is very Disney-fied, but good for a day or so of poking around)
Houses (so cool! I love the Euro-feeling of these places)
Yes! Food
We like to venture off the beaten path when we travel and found a nummy place in the neighborhood of St. Roche. Oh.my.god delicious. I learned how to say "croissant du chocolate" here. (Because I ordered three of them in three days.) It's good to expand your language skills, yes?
We also ate Beavertails (Queues de Castor). They are n.o.t. healthy. But, good gracious, they are delicious. Warm, fried dough topped with maple icing and drizzled with chocolate. It's as if the candy fairy made these for adults- liquid sugar and carby goodness dripping down your chin. You must eat one in your life. Truly.
Yes! Passion
My theme for this trip was 'passion' – I wanted to look for passion, and capture images of it when I found it. It's my first time experimenting with this idea, so my photos are kind of cliche. Nevertheless, I had a good time and opened myself up to more ideas of what 'passion' might be than I had previously entertained.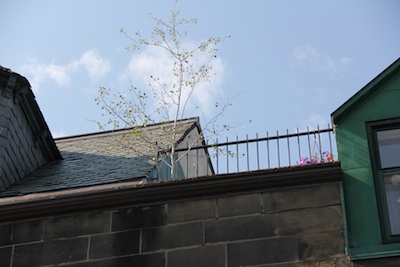 Yes! Architecture
There was so much delightful, interesting, inspiriting architecture in Quebec City. Oh my goodness! I love the mixing of the modern and the historic and the creative uses of materials. And just seeing all the variations on a theme- such creativity. Love that!
Yes! Music
The mp3 player in our rental car was broken, so there was no music on the way up or down, much to our chagrin. We didn't bring CDs. And we didn't think of turning on the radio until the day we left (duh! duh! duh!).
However, the day we left, we found a station that played both English and French/Quebecois pop/modern music.
This felt like the best gift of the whole trip.
We got to hear some amazing songs in French. I have zero idea of what was being said, but it was so inspiring to listen to. It opened me wider, musically.
By far, my favorite was this song: Kiss You Inside Out by Hedley with an overdub in French by Andree-Anne LeClerc. There is no version of this on iTunes and only a 'lyrics' version on YouTube. So here it is.
You can get the same vibe I did, if you like: look the other way and listen to the song (as if it were on the radio).
But then (ack! so excited!) I found the full English version, complete with beautifully tattooed boys (yes, this is so poppy and sweet you might need a glass of water afterwards, but I. Like. It.). And then (andthen!! andthen!!) I found a clue to the next stage of 'Yes!'
It was these lyrics:
I wanna know you/
inside out/
I'll spend my life/
tryin' to figure out
Yes, it's a romantic song, but what if Life was saying to me: "I want to know you, Joanna, because you're a part of me. And you can know me -Life- inside out, too. You're desire for beauty and connection are within me- let's explore."
See? An amazing invitation to so much more Life in one little song. It's my new favorite.
So, that's Quebec City in a nutshell.
Exotic.
Fascinating.
Beautiful.
Passionate.
Everything I wanted.
(If you're wondering why I'm starting to talk about passion and fun and ecstasy on the site it's because I've finally (finally!) figured out that sensuality, desire, and satisfaction are necessary for the health of the soul. More than that, they are sacred. Holy. Gotta have 'em. So, I'm playing with ways to bring that out. We'll see what happens. Stay tuned…)